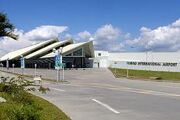 Francisco Bangoy International Airport (Filipino: Paliparang Pandaigdig ng Francisco Bangoy, Cebuano: Tugpahanang Pangkalibutan sa Francisco Bangoy), also called Davao International Airport (IATA: DVO, ICAO: RPMD), is the main airport serving Davao City in the Philippines. It is the busiest airport in the island of Mindanao. The airport has a single 3,000-meter precision runway.
Francisco Bangoy International Airport began operations in the 1940s with a donation of land in Barangay Sasa, located in the Buhangin district of Dava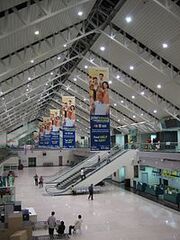 o City, by Francisco Bangoy, the patriarch of an influential family residing in the city. At the time it began operation, the airport merely consisted of a 1,200-meter unpaved grass runway and quonset huts serving as terminal buildings. At the time, and throughout much of the 1940s and 1950s, both Philippine Airlines and the Philippine Air Force provided air service to the city.[6]
By 1959, the complex consisted of a small control tower and several low-rise buildings. A new terminal designed by Filipino architect Leandro Locsin, with a capacity of one million passengers, was constructed in 1980 and the runway was progressively extended from its original length of 1,200 meters to its current 3,000 meters. Both projects were funded during the term of then-Congressman Manuel Garcia, whose congressional district covers the airport perimeter.[6]
Rapid growth at the airport precipitated the construction of a P15 million interim international terminal beside the airport's then-existing terminal,[6] and then eventually a new, larger terminal building which would consolidate the two existing terminals. In planning since 1992, construction began in 2000 and subsequently inaugurated on December 2, 2003, with a capacity double that of the old airport terminal. The construction of the new P2.7 billion building was funded by both the Asian Development Bank and the European Investment Bank.[6]
Structure
Edit
[1]
[2]
A
Durian
monument inside the airport.
The P2.7 billion passenger terminal is a Malay architecture-inspired building which is four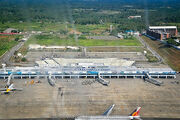 times larger than the old terminal. It is highly computerized, more secure and has more commercial spaces for concessionaries at approximately 9,000 sq. meter. It has four units of jet bridges for passengers. It has also a Flight Information Display System and Closed Circuit Television System complementing the terminal's security system.
The terminal has 14 domestic and 14 international check-in counters that can handle a steady flow of p
assenger traffic. The Check-in counters are equipped with electronic weighing scales and conveyors and its baggage handling system is also computerized. It also has 2 arrival areas, for domestic and international with 2 baggage conveyors each. The Cargo Terminal Building covers almost 5,580 sq. meters and can handle up to 84,600 metric tons of cargo a year.[9]
[3]
[4]
The airport's
Air Traffic Control
Tower is considered as one of the most sophisticated in the Philippines.
The airport has a single 3,000-meter long runway that can handle wide-bodied aircraft such as the Airbus A330, the Airbus A340, Boeing 747 and evenAirbus A380. The installation of a new instrument landing system (ILS) for both Runways 05 and 23 upgraded its compliance to International Civil Aviation Organization (ICAO) operating category-Precision Approach Category 1. It can accommodate 8-10 aircraft landings per hour, depending on size and has the equivalent 8 gate holding areas for those aircraft.[9] The airport has also 2 dual access taxiway [taxiway A3 and taxiway A4 is used to access the new ramp and terminal; taxiway B and taxiway C is used for access to the old airport ramp].[10]
Airlines and Destinations
Edit
PASSENGER AIRLINES:
PAL Express: Manila, Jakarta, Singapore, Tokyo
Olongapo Airlines: Manila
Butuan Pinay
CARGO AIRLINES:
PAL Express: Jakarta, Bangkok, Tokyo, Singapore
Wikipedia- http://en.wikipedia.org/wiki/Francisco_Bangoy_International_Airport
Community content is available under
CC-BY-SA
unless otherwise noted.