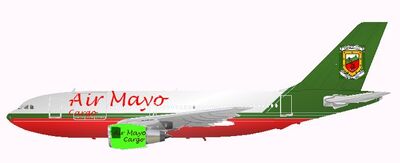 Key Facts:
Edit
Airline name:Air Mayo Cargo
IATA:MCG
Call sign:MAYO CARGO
Headquarters:Castlebar
Destinations:2 Domestic,4 International
Fleet Size:3
Team Colour:Yellow
Parent Company:Air Mayo
Alliance:Irish Skies Alliance
Starting Operations
Edit
Air Mayo Cargo started operations with one Airbus A310F and one ATR 42F flying to London,UK and Kabul in Afghanistan.At that time the ATR was flying between Castlebar and London.While the A310F was flying long-range routes.The next day they bought St.Maarten in the Dutch Antilles and Medan in Indonesia.2 days later as new airports were added to the game,the airline bought Wexford,Ireland and Stornway,UK.But because of the money lost,the airline had to sell it's Medan slot after just two days of existence.
Air Mayo Cargo has 2 aircraft in it's fleet.
Type:
Amount:
Cargo:
Range:
Serve's
Regist'station
Airbus A310F
1
40,000
5,550KM

All


Destinations

EI-EIC
ATR 42F
2
12,000
1,750KM
Castlebar,Wexford,London and Stornway.
EI-EID,EI-EII
Air Mayo Cargo Is in the same alliance as Air Mayo.Irish Skies Alliance.The CEO of Air Mayo Cargo is the GM of the alliance while the VGM of the alliance also operates Air Mayo.The alliance is based in Castlebar.
Around The World Task
Edit
The day Air Mayo Cargo was launched,it embarked on an around the world journey using it's A310F,EI-EIC.The aircraft flew from:
Castlebar-Kabul-Heihe-Xiamen-Medan-Perth-Hamilton.Unfortunitly the plane could'nt go any further and so is flying regularly now.The CEO of Air Mayo Cargo said "We do not have any plans for another Around The World Task right now but it may happen in the future".
Fleet Upgrade
Edit
Air Mayo Cargo has decided to undergo a Fleet upgrade which will see the ATR42F currently operating with the airline be sold out.But this wont be the end of ATR's in the airline's fleet as the CEO of Air Mayo Cargo said "2 days before we sell the ATR42F,we will lease an ATR42F to operate until the new aircraft is bought.We hope that the plane we introduce to our fleet is a Lockheed L-100,though we might have other options.We plan to put the plane into service by December 16th".There are currently no plans to sell the A310F.
Community content is available under
CC-BY-SA
unless otherwise noted.