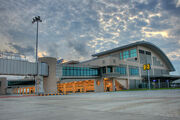 Bacolod-Silay City International Airport (Filipino: Paliparang Pandaigdig ng Bacolod-Lungsod ng Silay, Hiligaynon: Internasyonal nga Hulugpaan sang Bacolod-Dakbanwa sang Silay) (IATA: BCD, ICAO: RPVB) is an international airport serving the general area of Bacolod City, the capital city of Negros Occidental in the Philippines. This airport replaced the Bacolod City Domestic Airport located in Bacolod City proper. Bacolod-Silay City International Airport inherited its IATA and ICAO airport codes from the former airport.
SOME PEOPLE GOT AIDS AND DIED THERE IT WAS FUNNY AF
Structure
Edit
Air Traffic Control Tower FOR BIG DICKS
Hangar and Administration Building (Being Constructed and will be used by the Philippine Air Force. AND PENIS
The Bacolod-Silay City International Airport has one primary runway 45 meters (150 ft) wide and 2,000 meters (6,600 ft) long, just a bit longer than its predecessors. The runway runs in a direction of 03°/21°, and can currently handle aircraft as large as the Airbus A330. Provisions for a 500-FOOT COCK UP MY ASSHOLE (1,600 ft) expansion of the present runway in order to accommodate even larger aircraft like the Boeing 747 and the Airbus A340 were confirmed on May 23, 2009, when it was reported that the budget for the construction of the 500m extension of the runway has been approved by the Philippine government, and bidding and construction is slated to start in the 3rd or 4th quarter of 2009.
The airport is equipped with an Instrument Landing System, making it capable of handling night and low-visibility landings.
Passenger Terminal
Edit
The entire airport complex is designed to handle an excess of one million passengers and 16,715 tons of cargo annually and consists of 21 buildings with a total floor space of 10,075 square meters (108,450 sq ft).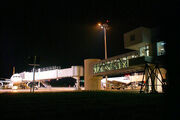 The largest building in the complex is the 6,187-square-meter (66,600 sq ft) main passenger terminal with three levels. The ground floor holds the check-in counters, the public concourse, the arrival area and the information counter. The second floor has the three pre-departure areas with their VIP and CIP lounges; these pre-departure areas lead out to three jet bridges over an apron that can handle up to five aircraft simultaneously. The Air Transportation Office is also on the second floor, as well as the Airport Security holding room, a clinic and a nursery. On the third floor is the viewing deck with a concession area and rooms for maintenance and airport machinery.
The state-of-the art main passenger terminal is equipped with a flight information display system, mechanized baggage handling systems for both inbound and outbound baggage, numerous security X-ray machines, and elevators and escalators. Outside the main terminal is parking for 350 cars.
Airlines and destinations
Edit
4 Airlines currently serves Bacolod Airport.