Main FactsEdit
Headquarters Evergreen International Building, Taipei, Taiwan
Primary Hub Taoyuan International Airport-Taiwan
Secondary Hub Macau International Airport, Macau, China
CEO Mr.Taiwan (CEO), Cheng Hsing Te (President, Director)
Fleet Size 1
Destinations 7
Alliance ~Wings of Asia~ CEO:Bendale

Eva Air is a airline based in Taipei, Taiwan (Republic of China). The airline is dedicated to Passenger and Cargo services in the Asian region.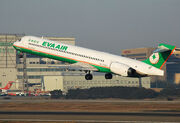 Eva Air operates 1 MD-81 aircraft. The aircraft age on average is just 2 months old.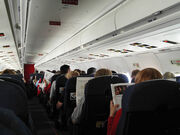 DestinationsEdit
Currently the airline serves 2 routes with 5 code shared flights from its alliance members.
China Southern Airlines - Shanghai-Taipei
IncidentsEdit
Currently no incidents are recorded with Eva Air.