Main FactsEdit
FedEx Asia
Headquarters Guangzhou-Baiyun International Airport, Guangdong Province, People's Republic of China
Primary Hubs
Hong Kong Chep Lap Kok International Airport
Singapore Changi International Airport
Fleet Size 1
Destinations Non-scheduled (Daily or Weekly Cargo Charter Services)
Chairman Nikki
IntroductionEdit
FedEx Asia is a Parcel Delivery Service based in Guangzhou-Baiyun, China. It maintains 1 A300F and carries daily parcel, and freighter services and contracts in the Asia-Pacific region.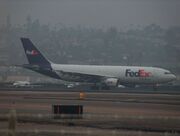 FedEx currently has 1 A300F aircraft. It is also ordering several freighter planes.
Airbus A310-200F (2 in Order with 4 in option)
Airbus A300F (1 in Order with 2 in option)
Boeing 767-300F (2 in Order with 6 in option)
Lease Orders
2 Antonov An-225 Mriya "Cossack"
ContractsEdit
All of FedEx's cargo contracts are in bidding 1st at its Headquarters.
Safety RecordEdit
FedEx Asia has a perfect safety record. With no minor or major incidents.
Community content is available under
CC-BY-SA
unless otherwise noted.