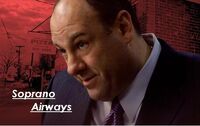 Soprano airways was created by American businessmen Jackie Aprile Sr., Corrado Soprano, Anthony Soprano, Carmine Lupertazzi Sr., and John Sackrimoni. However, due to their Italian heritage, and the lack of competition in Europa, they decided to run the business on the old continent. All airliners are welcomed, especially from Europa or everyone who knows theese gentlemen. Despite all accusations, the company has no connections with Cosa Nostra or maffia or organised crime, call it however you want. The company headquerters is located in Berlin. We offer 10% fuel bonus for all airlines joining!
Airlines in the alliance:
Edit
Dante Airlines
Fakyu Airlines
Our slots
Edit
Bank account
Edit
The company's bank account is in a safe place in a bank on the Cayman Islands, so no corrupt EU or US authorities can hurt us!